The A Special Seal Jean Jacket is from our new collection, a simple trucker jacket that keeps you warm during windy seasons, with graphics featuring a special seal from illustration collection.
Premium lambswool meticulously shorn from sheep aged 5 to 7 months.
Ergonomically designed fit that shows both your style and your care.
Precision manufactured under four-sigma standard.
Available in 6 sizes, please check the size chart and measure your body before placing your order.
COMPLETE PROTECTION AGAINST FREEZING CONDITIONS -  We wanted to make double sure you're all warm - this jacket features a wool insulation design to protect your body!
ULTRA-SOFT LAMB FLEECE LINING  - Just rub your hand on the inside, and feel the incredibly soft, thick lining that'll make you want to wear it every single cold day!
SUPER SPACIOUS POCKETS -  Features 4 pockets. They hold all your daily carries, and keeps them safe. Not only can you fit your phone, earbuds and keys safe; you can fit all that and still keep your hands warm inside!
TOP-SHELF METAL BUTTON -  Fully reinforced to secure your jacket and keep the cold out, while keeping intact and moving smoothly even in the harshest cold!
HANDMADE BY EXPERT CRAFTSMEN  - Every single stitch and every single thread used in constructing these incredible jackets is inspected carefully; using only the finest materials!
Caution: Iron under 110 celsius. Hand wash recommended. Water temperature maximum 30 degree celsius. Not bleach-able.
The Denim Jacket Styling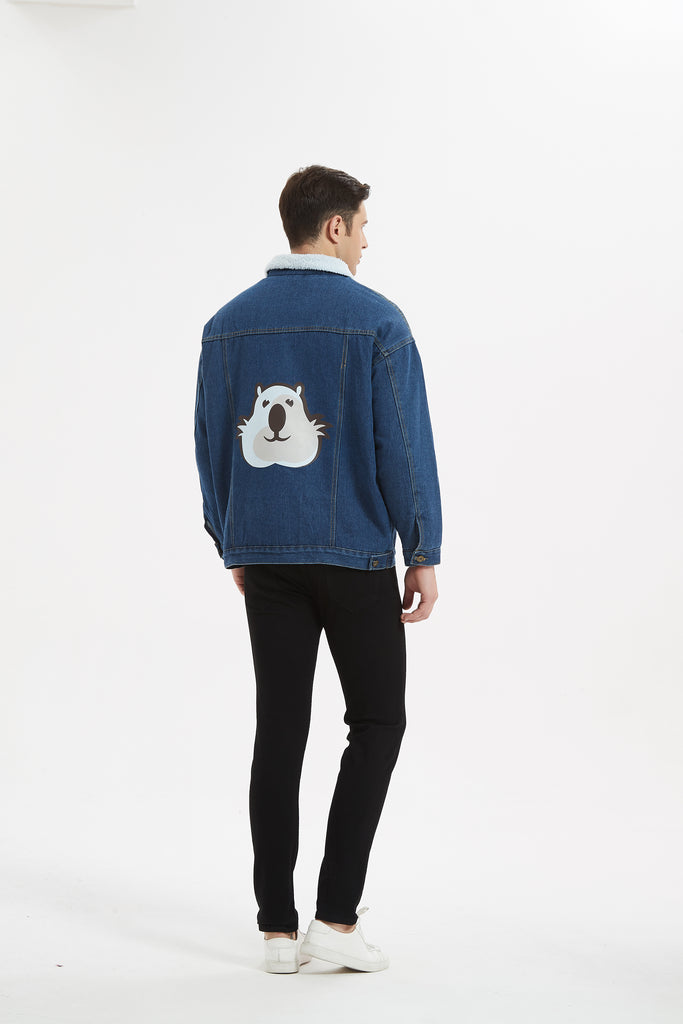 Size

Length

Shoulder

Sleeve

 

Bust

XS

27.2"/ 69cm

17.0"/ 43cm

23.6"/ 60cm

39.4"/ 100cm

S

28.0"/ 71cm

17.3"/ 44cm

24.4"/ 62cm

40.9"/ 104cm

M

28.7"/ 73cm

18.1"/ 46cm

25.2"/ 64cm

42.5"/ 108cm

L

30.0"/ 75cm

18.9"/ 48cm

26.0"/ 66cm

44.1"/ 112cm

X-L

30.3"/ 77cm

19.7"/ 50cm

26.4"/ 67cm

45.7"/ 116cm

2X-L

 

30.7"/ 78cm

20.0"/ 51cm

26.8"/ 68cm

46.0"/ 117cm

3X-L

 

31.1"/ 79cm

20.5"/ 52cm

27.2"/ 69cm

46.5"/ 118cm
Plus, every shipment comes with an insurance policy in collaboration with major credit card institutions including Visa and MasterCard and a unique Quocoa Warranty Identifier (QWI) code, so you don't need to worry about incidents in the production or logistics processes. Shipping and return policy may be found here. If you find it damaged, simply snap a photo of the QWI and the product and file a policy claim here.
Design design text: No need to make any effort, you are special aready:" PAINT , No, need, to, make, any, effort, you, are, special, aready:", PAINT, key design elements: Sleeve, Rectangle, Font, Electric blue, Pattern, Circle, Art, Fashion accessory, Graphics, Illustration, relevant keywords: Product, Product design, , Font, Design, Line, Graphics, Organism, Pattern, Meter, relevant pages:
* Sizing will strictly follow the size chart. Errors in choosing the right size will not be eligible for return or refund.